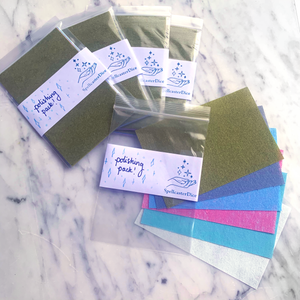 The perfect polishing kit for finishing up a raw set of dice! These top of the range polishing papers will take a set of dice up to a perfect mirror shine, and can be used wet or dry to avoid dust! they wash easily, are soft and easy to use, and come neatly packaged in a portable pack to be used again and again!
White - 1 Micron / 8,000 grit
Teal - 2 Micron / 6,000 grit
Pink - 3 Micron / 4,000 grit
Blue - 9 Micron / 1,200 grit
Grey - 15 Micron / 600 grit
Green - 30 Micron / 400 grit
There are many tutorials available online on how to polish using these. I personally highly recommend the following guide by Jess at @Void_dweller_dice: 
https://bit.ly/33rGLHB 
My inbox is also always open if any advice is needed!